From the East Blue to your living room TV screen, Netflix is bringing one of Japan's most loved animated series to life! One Piece, which has been airing for almost 24 years, is getting an official live-action adaptation. Sounds amazing, right? Well, to some fans, this is less than stellar news. Throughout the modern ages, many other anime series have been adapted into live-action movies and TV shows, but have had disappointing responses and outcomes. Some fans fear this is what will happen with One Piece by Netflix, and they think showrunners and producers should leave the manga and anime as is. Fans also have concerns about the actors and actresses cast to play some of One Piece's most iconic characters, worrying they won't live up to the characters made and designed by Eiichiro Oda, the creator of One Piece. Let's take a look into some of these fan's concerns and address how the live-action One Piece, specifically the cast, will compare to the original characters and story.
Iñaki Godoy as Monkey D. Luffy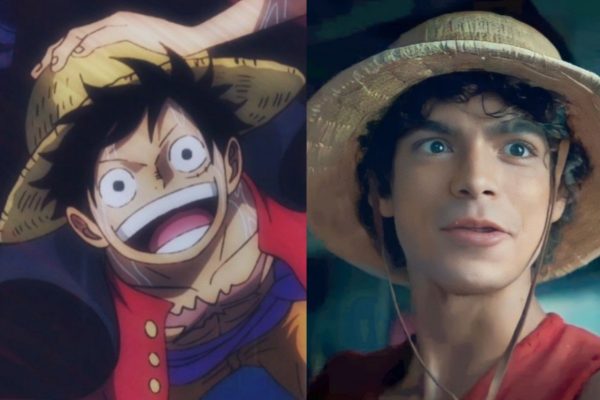 Hand-chosen by Eiichiro Oda himself, Iñaki Godoy was cast as the Straw Hat crew's optimistic, good-natured, funny captain. As the story's main character and the heart of the show, playing such a character are big shoes to fill.        
"Finding Luffy was such a journey because he is the center of the show, and in casting Iñaki I think we really lucked out," said Steven Madea, a showrunner and executive producer for the show.
What the show gets right with Luffy's character is the overall character and costume design Godoy displays. It's pretty clear that Godoy physically resembles Luffy, as he sports Luffy's iconic straw hat and red vest. Also, the CGI recreating Luffy's notorious "rubber body" is very well done and not cheesy. 
Although, what some fans can't seem to enjoy about Godoy's Luffy is his personality. In the anime, Luffy is a leader with a bit of a goofy side but holds to his ideals and goals. Based on the live-action trailer, Godoy presents a character who is more quippy and awkward, with a lack of the straightforwardness Luffy usually possesses. Fans fear this will take away from Luffy's role as a captain. 
Altogether, Godoy plays Luffy with a certain charm that fans also seem to enjoy. Only the show's release will accurately tell how Godoy portrays Luffy!
Mackenyu as Roronoa Zoro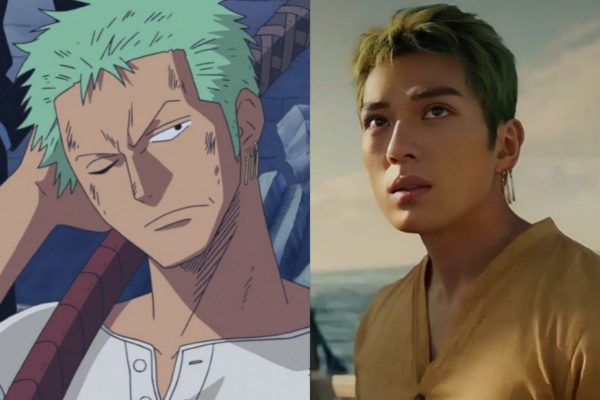 Every captain needs a right-hand man, enter Mackenyu as Roronoa Zoro! Being the deep and brooding. swordsman, Zoro from the anime is a fan favorite, but how does Mackenyu compare? Based on the trailer, fans are going wild over Mackenyu's Zoro as well! Mackenyu approached playing such a loved character with much thought, appreciating the opportunity to play his favorite character.
"Zoro has always been my favorite character. It's an honor to be wearing [his] swords."
Mackenyu told Netflix about playing Roronoa Zoro.
Mackenyu plays Zoro with such accuracy as the original character. In preparation for the role, Mackenyu learned to use and wield three swords, showing his dedication to the part. Although Mackenyu's Zoro won't be able to perform complex acrobatics in fight scenes, that has nothing to do with the actor but more so with the translation from fiction to reality.
Needless to say, fans are more than ecstatic to see Zoro in the flesh, and have been anticipating seeing Mackenyu in action ever since he was announced as Zoro.
I'm most excited to see Zoro. I really like his personality, you know. He's a cool guy and he uses three swords." Jeauzie Allen (10)
Emily Rudd as Nami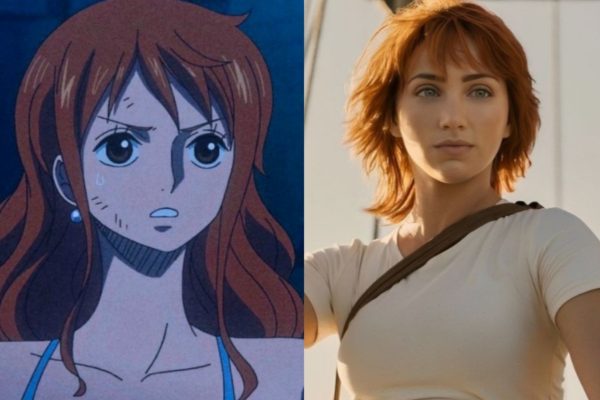 With someone as bad at navigating as Zoro, and carefree as Luffy, the crew needs a navigator! Nami, a money-loving, witty thief joins the crew as the ship's navigator! Like the rest of the cast, Emily Rudd was also hand-picked by Oda himself to play Nami.
"She's the cool, calm, collected cat burglar of the group. I was born to be Nami," Rudd said in an interview with Netflix. Many fans are torn between her statement, though. Some agree that Emily looks and portrays Nami's character well, while others think she isn't the best fit for the role.
Like the other live-action crew, she resembles Nami physically, but many fans don't think her personality fits Nami's. They believe her portrayal of Nami is too "bossy" and she has too much attitude. Nami in the anime does have some authority on the ship, redirecting the unorganized men in the crew, but many think Rudd's Nami doesn't display the same type of authority. 
Even though fans have their doubts about Rudd, many fans also love her as the fiery Nami, expressing that she is already their favorite character among the live-action crew. Many hope to see Rudd's hard work and dedication in the series when it airs.
"I'm really eager to see Nami in the live-action. I just love her character. She's a strong, independent woman who shows that she can do a man and woman's job at the same time. She's able to steal treasure and deceive those around her. I'm excited to see how that translates into the upcoming series." Anonymous
Jacob Romero as Usopp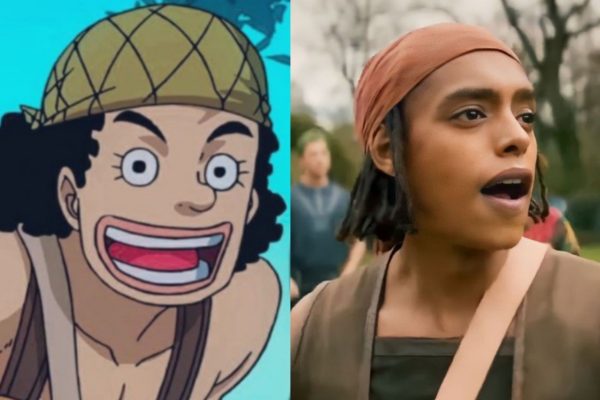 Although he has a cowardly, pessimistic personality, Usopp wishes to be a brave warrior of the sea when joining the Straw Hat crew. Jacob Romero, the actor cast as live-action Usopp, wishes to bring the goofy storyteller and sniper to life with the certain charm Usopp has in the animated version.
Fans seem to enjoy Romero's Usopp so far based on the trailers and previews, since Romero's personality is so much like Usopp's, even without being in character.
"Jacob is such a goofy person. It's almost effortless for him to transform into Usopp, " Emily Rudd said when asked about her co-star.
The one noticeable thing missing from live-action Usopp is his most defining feature, his long nose! In the anime, Usopp has a long Pinnochio-like nose, which is on-brand for him since he is a bit of a liar and an exaggerator. Although this was a design choice by production, and not Romero directly, fans are hung up on the fact Usopp doesn't have a long nose. The designers for the show explained the reasoning for this is that it wouldn't translate well from animation to real life, which is understandable.
Everybody is definitely excited to see Romero portray such a fan-favorite character and has high hopes for him in the live-action adaptation.
"I'm probably most excited to see Usopp. He's the most normal person, and he's like the funniest [crew member]. I want to see what they do with him as a character." Charles Walton (12)
Taz Skylar as Vinsmoke Sanji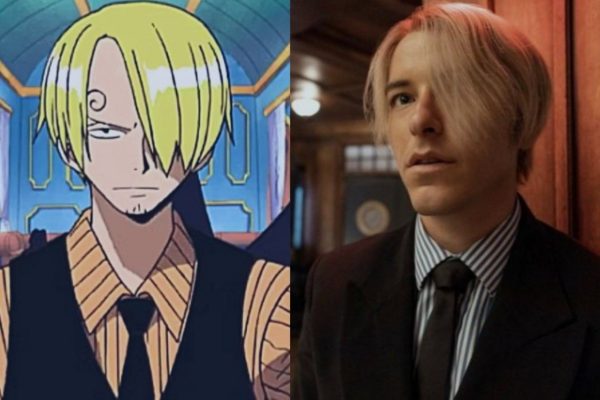 To Luffy, food is the most important thing in the world, therefore, having a cook on the crew to prepare him delicious meals is vital. When meeting Sanji Vinsmoke, Luffy knew he needed him as a part of his crew. Perhaps this was also the case when Eiichrio Oda cast Taz Skylar as the composed, nonchalant, and flirty cook.
Upon the original announcement of the cast, Skylar received the most backlash. Many fans criticized his appearance, expressing how they thought he didn't look like Sanji enough to play the role. As time passed, trailers and previews started coming out, and many fans changed their minds on the actor. Exclusive behind-the-scenes clips proved how hard Skylar was working to portray Sanji, showing him practicing Sanji's iconic fighting kicks and cooking skills which he learned specifically for the role.
"Playing Sanji, I had to learn how to cook and fight. I was like, 'This is gonna be fun.'" said Skylar as he described his time preparing for the role.
Like what happened with Usopp though, Sanji in the live-action is missing a distinguishing feature to his character. His iconic swirly eyebrows, of course! As described in Usopp's situation, the reasoning for this is so that the character design would look natural when being translated from the anime.
Hopefully, Skylar's Sanji will be well received when the series officially comes out, demonstrating the sheer amount of work Taz Skylar has put into his role.
Overall, Eiichiro Oda, the cast, and the production team have put in everything to ensure that One Piece becomes a success. Oda sensei expressed how grateful he was that a world he created when he was just 17 years old, is being brought to life. He hopes that fans of the manga and anime enjoy the live-action as much as he enjoyed creating it. Check out One Piece on Netflix when it's released this Thursday, August 31, 2023. 
Story continues below advertisement