TJ Maxx
Opening its doors on Sunday, September 17, TJ Maxx excites all of Zachary's constituents, as church goers rush to the flashy new department store! Swarming with families and teenagers discovering every inch of the store, it was challenging for me to move around! Upon entering, Halloween and fall décor are displayed, piquing many customers' eyes, including mine. Moving forward, there are ten racks of women and junior clothing with the men's and boys' side adjacent to it. I must admit I spent quite a while in the girls' section, checking out the cute sweaters and stylish jeans! To the far right was TJ Maxx's notable shoe section filled with rows of multi-colored boots! There were so many options; it was too hard to decide!  
In the very back, was the home décor section stacked with pumpkin-scented candles, comfy throw pillows, family picture frames; the list goes on! And of course, the small luggage section, infant clothes, and the last-minute must-haves at checkout! Although the crowdedness and long checkout lines were overwhelming, it was worth the wait when I took home two gorgeous, fall-worthy sweaters. Looking for the perfect fall fit on a budget? TJ Maxx has everything under the sun for the autumn season for everyone!  
Five Below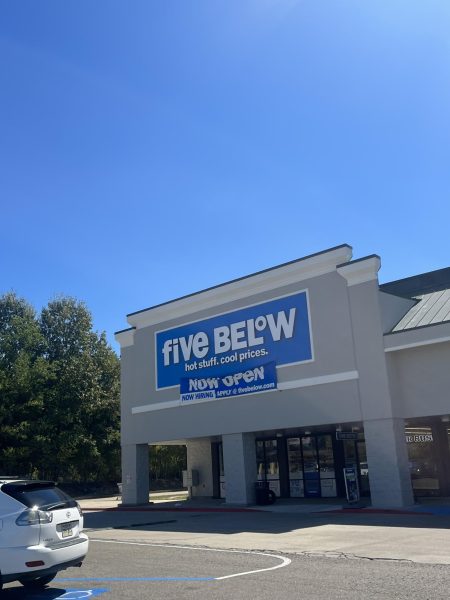 I must admit I was most looking forward to Five Below's grand opening on September 22! Although it's having a slower start compared to TJ Maxx, Five Below invites children and teenagers to its fun-themed store! As soon as I stepped in, I felt as if I stepped into another world! It's quite literally a candy store with a section dedicated to sour, sweet, and salty delights! As a sweet connoisseur, this is definitely my favorite part of the store! Halloween costumes, makeup, and accessories were adorned on the store's right side with an arts & crafts section directly behind it. From canvases to various drawing utensils, Five Below is an artist's dream! Looking to accessorize your room? Look no further; Five Below's got you covered! Choose from a selection of fluffy pillows, movie posters, and LED lights. For the younger kids, colorful graphic tees are the way to go! For travelling essentials, a section dedicated to electronics is here for you! Overall, Five Below has a little bit of everything! It's your one stop shop for all random and fun things for under five dollars! 
I believe TJ Maxx and Five Below are exactly what Zachary needs, especially for the younger generation. High schoolers can now go on a shopping spree with friends without breaking the bank or leaving town. I, myself, saw a few classmates spending their fall break enjoying what Zachary has to offer! 
Story continues below advertisement