The Journey
Hailing 20 miles north of Zachary, Mr. Ben Necaise is from St.
Francisville. He joined the National Guard and Army after completing
basic training in his junior and senior high school years and served for
14 years. He held various jobs in college, from a medical warehouse to a
paper company. Once graduating, he taught at West Feliciana Middle
School for many years before becoming the school's assistant principal
and principal.
Mr. Necaise didn't stop there.
He went on to the Department of Education, then East Baton Rouge
Parish Schools, and worked with supervisors to help support middle and
high schools.
Mr. Necaise always thought he'd try to become the highest official at the
district level: the superintendent.
"I am a firm believer that you should always have a lot of experience
and go through the pipeline and get a lot of diverse experience. I was
able to do that across a lot of districts– large and and small," Necaise said.
Throughout his career, he helped new teachers, and supported
transportation, facilities, and departments, which gave him well-rounded
experience.
We Are the Standard
When working as the middle school principal at West Feliciana Middle
School, Mr. Necaise would examine Zachary's schools and ask himself,
"How are they getting that done?"
In a way, he looked up to and admired Zachary Community School's
efficiency and A+ performance.
Necaise recalls his decision to move to Zachary.
"We always knew Zachary was an excellent school system to benchmark by. So, when my wife and I were working at EBR, we decided to split the difference. We didn't want to go to Baton Rouge, yet we didn't want to return to St. Francisville, so we thought Zachary was the perfect option."
— Ben Necaise
He is very familiar with Zachary; two of his children graduated from
here in 2020, and he has an 11th-grader who currently attends.
Further showing his admiration for ZCS, Mr. Necaise acknowledges
Zachary's unified community.
"One thing about Zachary is the school, faculty, and everyone works so
well together, and we are a true community, which is not something
everyone has," Necaise said.
Furthermore, Mr. Necaise emphasizes how interconnected the Zachary
community is.
"Going to school with the same people for 12, 13 years is amazing,
including the fact that we're a high-performing system that is
continually improving," Necaise said.
He is ecstatic to announce new additions to ZCS, such as student
advisory, stakeholder, and teacher groups. The purpose is to get student
voices into decision-making and to get constituent's opinions.
Words from a Dedicated Educator, Supervisor, and
Provider
As we all know, Zachary High is known as an AAA school, excelling in
academics, arts, and athletics. It's no secret that the high school in the #1
school district has tons to offer.
Mr. Necaise shared his thoughts.
"The most important thing is to take advantage of everything. It's easy as
a student to not realize what you have available," Necaise said.
He highlighted the balance Zachary High has as a school.
"The high school is big enough to be where we can offer a lot of
different things because some schools don't have the scale of programs
we have," Necaise said, "On the other hand, it's small enough to where
we can kind of know everyone."
Additionally, he shared some words of wisdom.
"My advice is to get involved, whether in extracurriculars, clubs, or sports, be involved in something and take advantage of the course opportunities. And if you're not sure what you want to do, sample everything,"
— Ben Necaise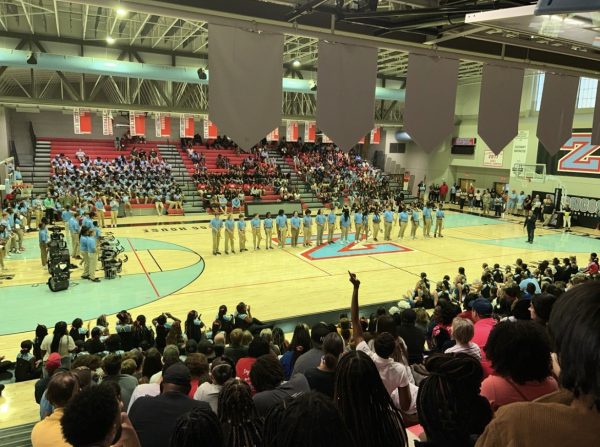 On August 21, Necaise attended Zachary High's annual "Meet the
Broncos," celebrating fall sports and its members.
"Well, I loved it. Whether it's parent orientations or open house,
everyone shows up, and that's important. The fact that we have parents
and faculty there recognizing students and the students being recognized
is a great thing," Necaise said.
The Zachary community is thrilled to welcome our new superintendent,
Mr. Ben Necaise. With tons of experience and a love for Zachary,
Necaise is ready to make his mark!
Story continues below advertisement