The match, which was hosted in McKinley's gymnasium, began with JV playing at 5:00 p.m. and Varsity following at 6:00 p.m. JV absolutely demolished their opponents; the Lady Broncos finished period one in the lead, 25 to 5, and, though they faced slightly more resistance from McKinley's team the second time around, also finished period two in the lead, 25 to 9. It was blatantly obvious that the Broncos were more coordinated, practiced, and bonded than their opponents. The girls kept the serve most of the match and scored most of their points from ace serves (when a player serves the ball over the net and the opposing team can't return it). After every point, the JV and Varsity girls would chant "All ace!" while the players on the court huddled together. JV's final score was 2-0.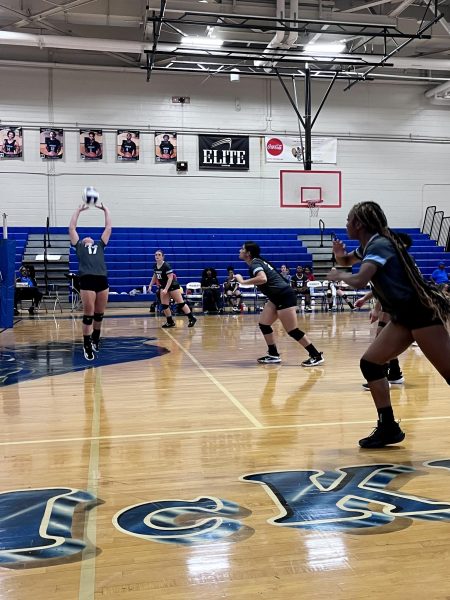 When six o'clock rolled around, the Varsity players began making their way to the court and warming up. Many of the JV players were also members of the Varsity team, including freshman Avie Mason who played libero, the only player who does not rotate and who acts as a defensive specialist. The girls finished period one with a strong lead, 25 to 5. In period two, McKinley put up a good fight, even pulling ahead of Zachary by two points for a time, but ultimately, Zachary took the cake in the second period with a score of 25 to 15. Period three followed the same pattern as period one, with the Broncos leading with a score of 25 to 9. The biggest threat in the third period was a McKinley mom who screamed "Double hit!" at the top of her lungs as a last resort for McKinley (to no avail). The final score for Varsity was 3-0. 
Coach Cheri Perry accredits much of the team's success to their bonds with one another and positivity. Routines like the "All ace!" chant, as well as simple high fives and back pats when a teammate makes a mistake, "have a big, huge impact on the game because it has a domino effect," Perry said, "So, even when you make a mistake, know that your teammate or your 'sister' has got your back regardless of what the outcome is." 
The girls proved their strength, endurance, communication, and, perhaps most importantly, their friendship at the McKinley match. We can't wait to see what they do later in the season. Their next game is Tuesday, September 19, at 5:00 p.m. against Episcopal, and their next home game is Thursday, September 20, at 4:00 p.m. against West Feliciana. Come out and support the Lady Broncos!
Story continues below advertisement